Our children's program includes genre-specific classes in ballet, jazz, tap, lyrical, and hip hop. Older children with sufficient training and experience may also be eligible for pre-pointe, pointe, and variations classes.
Classes work on technique throughout the year as well as learn choreography for group dances. Students have the opportunity to display their learning at our annual June Show Recital.
Students are also given the opportunity to join performing groups to learn more advanced choreography and performance styles, and compete with other local studios.
Enrollment in our children's classes is capped at a maximum number for optimal learning.  Please call the OC Dance Center office at 714-846-0215 or email us at [email protected] to ask about class availability for your child based on his/her age and experience.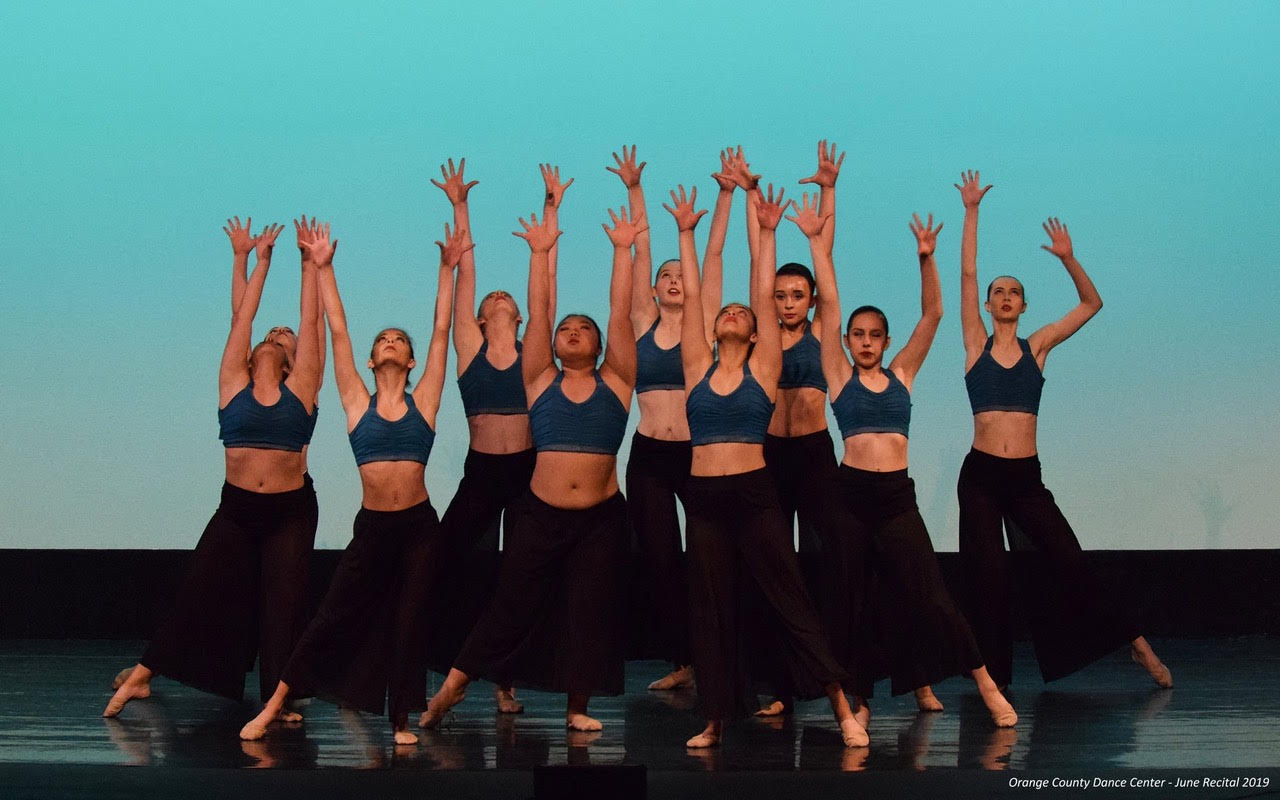 2021 Class Fees, Policies, and Enrollment Forms
---
CLASS OFFERINGS:
Ballet, Pre-Pointe, Pointe
Classes in classical ballet are offered at all levels from beginning to advanced.
Jazz
Classes in jazz dance are available at the beginning, intermediate, and advanced levels.
Tap
Classes in traditional and contemporary tap are available at the beginning through advanced levels.
Lyrical
The lyrical dance style combines elements of classical ballet with jazz, contemporary, and modern dance.
Hip Hop
Hip hop is a high-energy dance style primarily performed to hip hop or rhythmic music.
Performing Groups
Students with sufficient training are given the opportunity to join performing groups in many different dance styles.
2021 Class Fees, Policies, and Enrollment Forms
BALLET AGES 6-8
Tuesday 5:30PM Ballet 6-8
Thursday 3:30PM Ballet 6-8 – with experience
Friday 4:30PM Ballet 6-8
Saturday 10:00AM Ballet 6-8
JAZZ/LYRICAL AGES 6-8
Monday 5:30PM Jazz 6-8
Tuesday 4:30PM Lyrical 6-8
Tuesday 4:30PM Jazz/Lyrical 6-8 ZOOM
Thursday 4:30PM Jazz 6-8
HIP HOP AGES 5-8
Wednesday 4:30PM Hip Hop Beginner 5-8
TAKING NAMES TAP AGES 6-9
Wednesday 4:30PM Hip Hop Beginner 6-9
BALLET AGES 9-14
Friday 3:30PM Ballet 8-12
Friday 3:30PM Ballet I ZOOM
Wednesday 3:30PM Ballet I 8-10
Friday 4:00PM Ballet I 8-11
Thursday 5:30PM Ballet I 9-11
Monday 3:30PM Ballet I 9-13
Monday 4:30PM Ballet II 9-13
Tuesday 4:30PM Ballet II 9-13
Wednesday 4:30PM Ballet 9-13
Wednesday 4:30PM Ballet II 9-13 ZOOM
Friday 5:00PM Ballet II 11-14+
Monday 3:30PM Ballet III 11-14
Wednesday 3:30PM Ballet III 11-14
Thursday 3:30PM Ballet III 12-14
JAZZ/LYRICAL AGES 9-14
Thursday 3:30PM Jazz I 8-11
Tuesday 5:30PM Jazz 9-13
Thursday 4:30PM Lyrical I 9-13
Saturday 11:00AM Lyrical I 8-11
Tuesday 6:30PM Jazz I 11-14
Tuesday 6:30PM Beginners Jazz 9-13 ZOOM
Tuesday 5:30PM Jazz I 9-13
Tuesday 4:30PM Jazz II 11-14
Tuesday 7:30PM Jazz III 11-14
Thursday 5:30PM Jazz III 11-14
Monday 4:00PM Int/Adv Jazz 14+
Saturday 11:00AM Jazz-Teen Int/Adv. 14 +
Wednesday 6:30PM Contemporary Beg 12-16
Thursday 7:30PM Teen Jazz Adv
HIP HOP AGES 9-14
Wednesday 5:30PM Hip Hop 9-14
TAP AGES 10-15
Tuesday 7:00 Beginners Tap 12+ List
Tuesday 6:00 Int Tap 10-15