Orange County Dance Center's pre-professional ballet company, Ballet Repertory Theatre (BRT), presents its 43rd annual production of The Nutcracker Ballet.  Performed in its original, full-length version, this delightful holiday classic has become the longest-running production of its kind in Orange County.  To learn more, click on our 2019 Nutcracker fact sheet.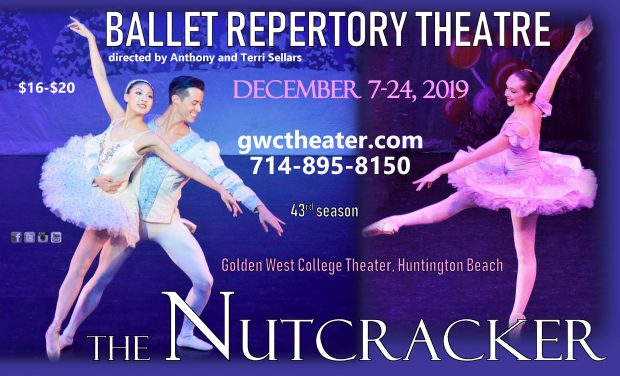 For photos and more, "like" BRT's Facebook page at https://www.facebook.com/balletrepertorytheatre or follow "balletrephb" on Instagram and Twitter.
The Ballet Repertory Theatre Association (BRTA) is a non-profit, all-volunteer organization (federal tax ID no. 33-0873296) that raises the funds needed to support all 3 of BRT's annual productions, especially The Nutcracker Ballet.  BRTA members are available to answer all Nutcracker-related questions at [email protected].
This year's BRTA Open House took place at our studio on Friday, October 4th from 5:30 to 6:30 pm, and Sunday, October 6 from 10 am to 1 pm.  Please look for the BRTA's Open House announcement next year at our studio and on social media.
To help Ballet Repertory Theatre, please scroll down to the Fundraising and Volunteering sections below. Your generosity alone allows the Nutcracker to happen.  Thank you!
2019 Ticket Information
All performances are held at the Golden West College Mainstage Theater.  Tickets can be purchased online at: http://www.gwctheater.com/nutcracker-ballet-dec-7-24-2019/.  Tickets are on sale as of October 1st.
Ticket prices:  $20 for general admission; $16 for seniors, veterans, students, and children under 12
Golden West College Mainstage Theater
15751 Gothard Street
Huntington Beach, CA 92647  (campus entrance H or I, at Center Avenue)
Phone purchases: Call the theater box office at 714-895-8150 extension 1 and leave a message.  A theater staff member will return your call.
In-person purchases: Box office hours vary.  Please call 714-895-8150 to verify box office hours on the day you wish to visit.  Tickets will also be available for sale at the theater box office one hour before each show time.  It is best, however, to purchase tickets in advance, online, as many performances sell out.
2019 Performance Dates and Times
Saturday, December 7 – 2pm & 7pm
Sunday, December 8 – 1pm
Friday, December 13 – 7pm
Saturday, December 14 – 2pm & 7pm
Sunday, December 15 – 1pm & 5pm
Friday, December 20 – 7pm
Saturday, December 21 – 2pm & 7pm
Sunday, December 22 – 1pm & 5pm
Monday, December 23 – 2pm & 7pm
Monday, December 24 – 1pm
2019 Performer Information
Ballet Repertory Theatre's Nutcracker includes nearly 250 performers in multiple casts.  Check back often for more information as it becomes available.  Roles are assigned by audition only.
There is a $75.00 performance fee per dancer (maximum $150.00 per immediate family), except for "Baby Mice" ($25.00).  Please make checks payable to Ballet Repertory Theatre (BRT), due at the first rehearsal.
There will be 2 or 3 casts for each role.  Performances will be assigned in consecutive order.  Cast requests must be turned in to the front desk before the first rehearsal with a reason.  The BRT directors will make every effort to accommodate cast requests.
All rehearsals are mandatory.
Regular rehearsals:
Ponchinellas and Entertainers: every Sunday 10:00-11:00 am starting September 29
Party Scene: every Sunday 11:00-12:00 pm starting September 29
Soldiers: every Sunday 12:00-1:00 pm starting September 29
Angels: every Friday 5:30-6:30 pm starting October 4th
Baby Mice: see performer information sheets for each class below
The following performer information sheets were handed out to performers at their first rehearsal.  They contain specific information, for each role, about casts, schedules, required clothes and shoes, and other important rehearsal and performance notes.  Please refer to these handouts often and mark your calendar with all important dates and times.
Dress rehearsals: There will be two (2) dress rehearsals at OCDC.  Performers will be assigned a date and time based on their cast.  A 2- to 3-hour slot will be assigned on these days, based on the performer's role: Saturday, November 30th between 1:00 pm and 6:00 pm or Sunday, December 1st between 11:00 am and 5:00 pm.  Kemp Photography will be present on both days for all Nutcracker portraits: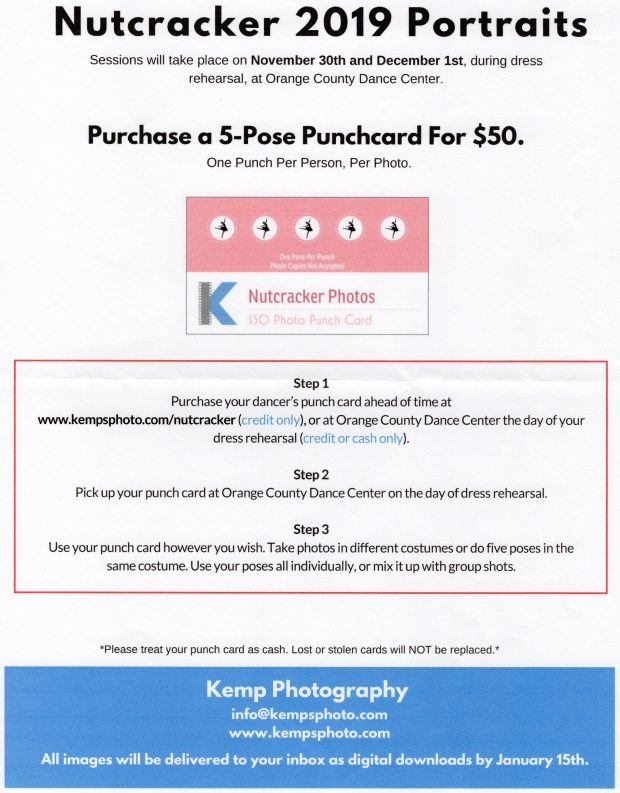 Stage rehearsal: There will be one (1) stage rehearsal at Golden West College Theater.  It will take place on Friday, December 6th between 3:00 pm and 9:00 pm.  A specific 2- to 3-hour slot will be assigned based on the performer's role.
Stage and rehearsal information sheets (handed out to performers during 11/30-12/1/19 dress rehearsals according to cast – please make sure you select and review the correct one for your cast):
2019 Ballet Repertory Theatre Company Members Only
2019-20 Guide for BRT Families
2019 BRT and BRTA Volunteering Opportunities
Parent sign-up sheets will be available on a table near the OCDC front entrance starting November 30th for parents to volunteer to supervise children backstage and help with costumes.  Parents are asked to sign up at least once during the Nutcracker season.  This sign-up is organized by Ballet Repertory Theatre's Terri Sellars.
Emails from BRTA's signup.com account will be sent to the parents of each group of performers as the start of Nutcracker shows approaches.  These emails will show all the time slots for which parents can sign up to help at the theater as boutique sellers, raffle ticket sellers, refreshments servers, or theater ushers.  These are all easy tasks for which BRTA members will offer quick training at the theater, as necessary.  Donations of baked goods, water, and juice will also appear as an item for which parents can volunteer.  This sign-up is organized by BRTA members.
High school and college students are encouraged to volunteer and will receive certificates for their service hours.  Please write to [email protected] for more information.
2019 Ballet Repertory Theatre Association (BRTA) Fundraising
Please use the forms below to help Ballet Repertory Theatre's 43rd Nutcracker and future productions.  If you have any questions about the forms below or about BRTA, please email
[email protected]
.  Completed forms should be dropped off in the
BRTA box at the Orange County Dance Center front desk
.
2019 deadlines for all Nutcracker families – See all of the form deadlines listed together.  This letter is distributed to parents during presentations at the studio. Questions? Contact BRTA president Heather Tremper at 714-599-2022 or [email protected]
2019 Nutcracker sweatshirt order form second round– due Wednesday, November 6th. Let your child show their Nutcracker pride by purchasing a beautiful 43rd season edition of our sweatshirt. Here is this year's design, which will be embroidered on the back of the sweatshirt (and not simply patched on). Questions? Contact sweatshirt volunteer Jodi Crail at 714-705-5225 or [email protected]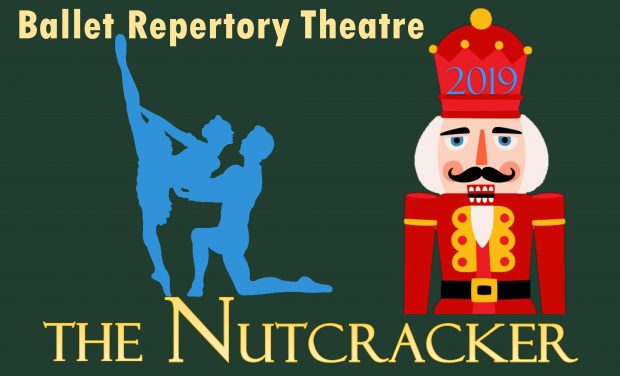 You can also donate to the "role basket" that will be raffled off at the theater during the last show (one each for Baby Mice, Angels, Soldiers, Party Scene, Ponchinellas/Entertainers, Company) .  There will be specially labeled boxes in the OCDC lobby to collect your monetary donations; any amount helps.  BRTA volunteers will collect donations regularly and create a themed basket representing each role with the money raised.  Please donate by Sunday, December 1st.
Year-round BRTA Amazon.com Donation Program
If you cannot contribute financially, you can go to smile.amazon.com, enter "Ballet Repertory Theatre Assoc" as your preferred charity in the search box, and shop as you normally would.  There will be no difference in your shopping experience and this can be done with all Amazon accounts, including Prime.  Amazon will donate 0.5% of your purchases directly to Ballet Repertory Theatre Association.  Please remember to go to smile.amazon.com every time you shop for the donation to happen; you will not have to re-enter your choice of our association.